Supporting cycling in the workplace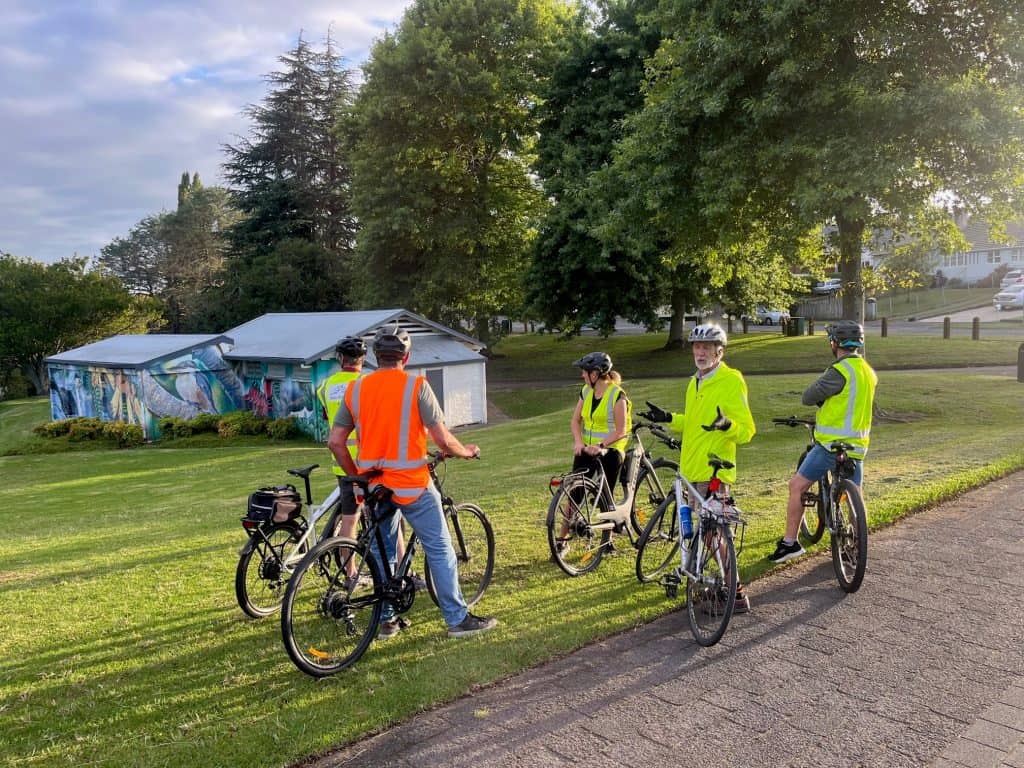 Bike Month is about celebrating and supporting local cycle initiatives wherever possible. With that in mind, we reached out to two non-client facing Bike Friendly Business nominees to ask what it means to provide staff with cycling facilities. Here's what they had to say:
Waikato Regional Council:
At Waikato Regional Council, we want cycling to be perceived by our staff as a convenient mode of transport, not only to reduce our carbon footprint, but to support their wellbeing as it helps alleviate stress and provides fitness.

Our Hamilton office provides 68 bike parks in a locked bike storage area that supplies e-bike charging points and a repair station. Aligned with the NZTA public sector e-bike scheme, we work with local supplier Electrify NZ to offer discounted e-bikes for staff. This relationship with Electrify begun with a staff e-bike trial day in Hamilton back in 2021.

Those who trade four wheels for two on their work commute can enjoy a hot shower with towels provided, leave their gear in a locker or drying room, and arrive in the office space fresh and energised. With cortisol hormones low, staff can go home and enjoy quality sleep.

At WRC, it's important to us that staff can connect with colleagues who have shared interests. Being able to bike to work means being part of a social community, and our internal online bike user group forum gives staff opportunity to connect.

Many of our staff have eagerly spun their pedals to earn points in the Aotearoa Bike Challenge, with 66 participants in total! Organised group rides along the river have inspired staff to be active together in our beautiful city, with our CEO Chris McClay leading one of these river rides.

Providing cycling facilities ultimately leads to a happier, healthier staff community and promotes the vision to make Hamilton a more bike-friendly city.
Hill Laboratories
We believe that encouraging staff to bike to work is about pro-actively supporting the health and wellbeing of our people. Cycling ticks so many boxes on that front, particularly the physical and mental health of our team. We also provide other health and wellbeing initiatives and programmes throughout the company, including free gym memberships to our teams in Hamilton and Blenheim.

Being bike-friendly is also about helping to look after the environment, and acknowledges the shared commitment that we, as a business, and our staff, must make to help ensure the sustainability of our ecosystem. This philosophy extends throughout the company, and includes several sustainability initiatives we have established and actively promoted, such as soft plastic recycling options for our staff and planting vegetable gardens on site for staff to tend and then share the produce.

Encouraging staff to cycle to and from work is led from the top, as our CEO and several senior managers also bike to site most days.

At our Hamilton site in Frankton, we have tried to make things as easy as possible for staff to bike to work. We provide a covered, secure area for safe bike parking, and have easy access to re-charging outlets for e-bike riders, as well as a bike pump and puncture repair kit readily available for use.

In the part of Frankton our Hamilton site is situated, there is a shortage of street parking, so from a practical point of view, having a sizeable portion of our team riding to work each day alleviates the pressure on the limited spaces available. There is also a scarcity of suitable public transport options available in this area for our 350 staff to use to reach our site, which means cycling is actually a necessity for many.

Another initiative in Hamilton, is our use of the Parkable parking app, which helps businesses manage their on-site parking more efficiently. For those staff who have allocated carparking on – site, there is an incentive for them to release their spaces, for example, by cycling to work or carpooling, and every time this occurs, $1 is donated to the social club.

To support this year's Aotearoa Bike Challenge, we have introduced a Hill Laboratories Bike to Work day, on 22nd February, to encourage as many staff as possible to cycle to and from work. For those that do, a free cooked breakfast will be provided at our on-site café. We hope this will tempt people who don't usually bike to do so, and that this then becomes an ongoing viable transport option for them.